This is my new design, the Full Body Design by Chapy. I know it is a bit hard to understand what is this about by the name but do not worry at all cause I will explain right away. So I called this Full Body because it shows my full body. That's me, yeap that's all. Take it or leave it!
I usually do not like full body designs cause I am very shy. Isn't that obvious? Just have a look at the way I stand looking at the camera. I couldn't look more amateur. Pfff I think I need to practice more. But I had to make this design so you can see my full body.
As you already know I am a bobtail and here is my bob tail. And yes, it is fully functional. The only problem is that it is too short to put it under my legs. As I have told you my back feet are longer than my front feet but here that is not very obvious because as you can see my back feet were not straight at the moment this photo was taken.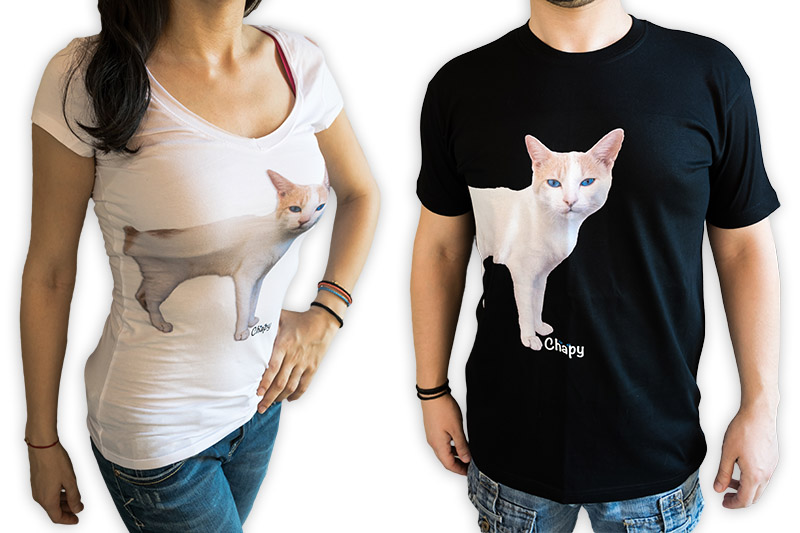 In my opinion the most interesting part of this design is the place it is printed. It is not printed in the middle of the T-shirt but on the side. So if you look the front part of the T-shirt you will see only my front half body. Actually my front legs and me staring at you! To see the full body you have to stand on the right side of the person wearing the T-shirt. It seems like a cat came out of this guy's armpit. Now when it comes to the color of the T-shirt I believe black is the best and that is because I am cream white and it makes a contrast  and looks really cool. Also in white is quite nice but why are you even listening to me? What do I know about fashion? I am just a 10 month old cat. But I am curious to hear what color would you chose!