This is my first design in my Chapfashion career! This is one of my best photos which I use on most of my social accounts. I named this Selfie Design because it is a selfie. Can't you see my right foot holding the camera? And me posing and looking straight to the lens?
Yeap, my first selfie. Most cats and humans do not believe me but trust me, it is true. I will shoot more soon! What do you think? Do I look nice? I believe I should be smiling a bit more but as you already know, I smile only when I sleep! That does not mean that I am not happy, don't forget that I am happy Chapy. It's just that I don't look good on camera when I smile and when I sleep I do not know that somebody is taking a shot.
So, about this design the whole concept is that it is black and white except my blue eyes. That is because I wanted to draw attention to the eyes! I do not know about you but for me blue is my favorite color. I could love anything that is blue, even water! If you want to bath me then just turn the water blue somehow. Please don't tell mum, I still hate water.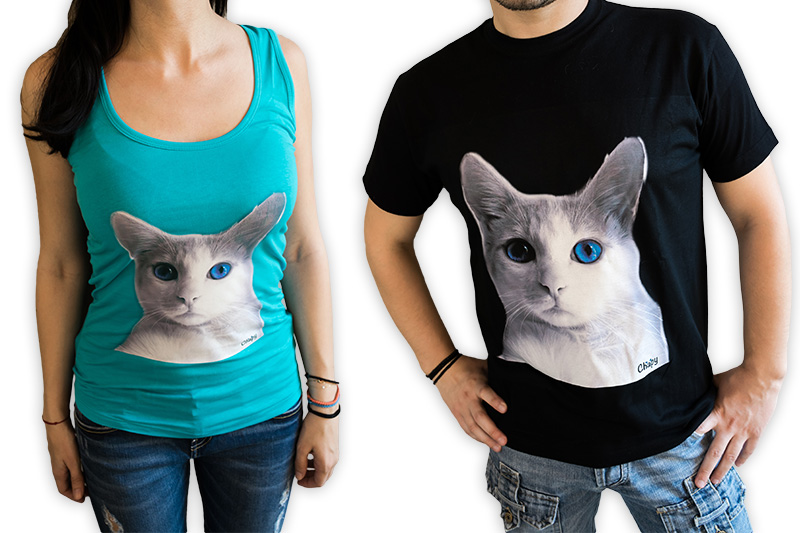 This design would look great on any color but in my opinion black is best. The blue t shirt is fine but it takes attention away from my eyes. It would be great with white or grey t shirt as well. What do you think? I am a beginner when it comes to fashion so any ideas or suggestions would be much appreciated. What color do you think would fit best with this unique design?