The Blue Eyes design is here! Another awesome design by Chapy in which the purpose is to emphasize on my blue eyes and I think that is quite obvious both from the image and from the title. This is my dad's favorite design and he wears this T-shirt all the time.
The weird thing though is that when other humans see the T-shirt they ask him if this is a cat. Of course it is a cat, what else could it be? But they seem to be a bit surprised and they keep telling my dad that it cannot be true cause they've never seen a cat with such blue eyes. Pfff humans.
Don't worry dad, if they do not believe then just bring them home and I will show them my eyes. The color of my eyes is blue but not always of course. At night or somewhere where is not much light it is almost impossible to see the blue color. They look mostly black and when light hits em they turn RED. Yeap, red and scary! But when there is enough light you can easily see my blue eyes and the more light there is the more bright blue my eyes look.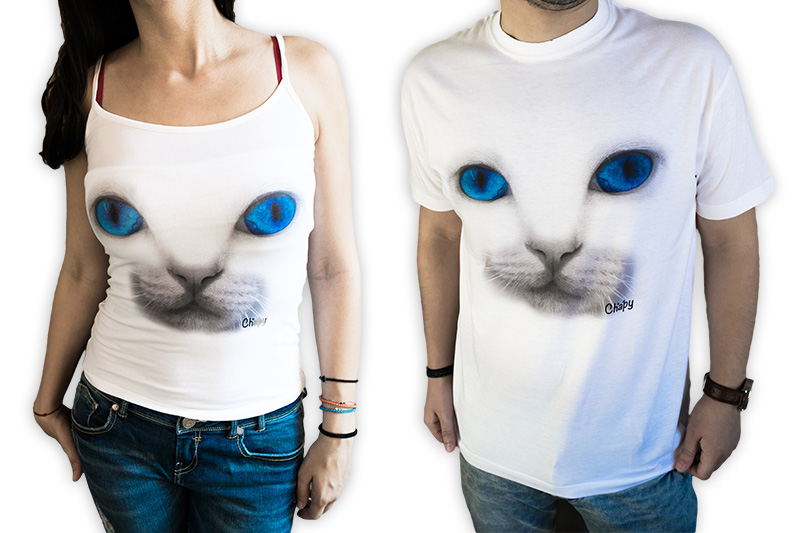 In this design the whole concept is to reveal and emphasize on the eyes. There is also my nose, mouth and mustache but they are in black and white and only the eyes are colored. That is the reason they look so big and even more blue. And that is the purpose of this specific design. Although I believe that on the girls T-shirt I look kinda scary don't you think? But that is because the T-shirt is stretched a bit. This one is best in white I think although I haven't seen it in black or other colors. I think that it might look even better on black but I don't think it would look good on other colors because as I said the whole concept is to emphasize on the eyes. I am watching you!