Here I am, walking alone by the beach. Just me and my shadow and the paparazzi of course. It is so hard to lose them. Anyway, I will just ignore them and pretend I am alone. Alone, feeling the sand, the fresh air and enjoying the endless view of the wonderful sea.
But as you can see I am keeping my distance from the water. It is amazing to look at it but water is not my favorite element. OMG those waves are huge. What if any of them reach me? I don't know how to swim. I could die here. Mum, dad, where are you? You know I hate being alone. Oh here you are. Please wait for me!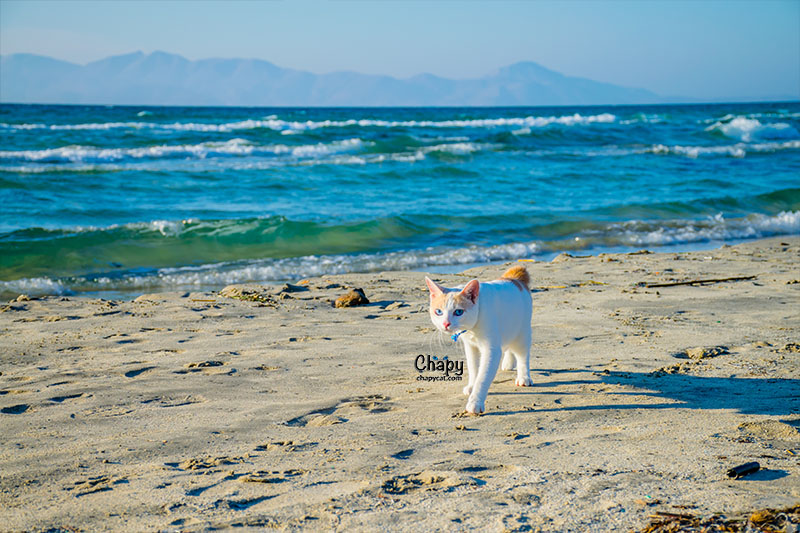 You Will Absolutely Enjoy This Post:► Beach View
For you my little curious cats, I am at Kohilari beach in Kefalos, Kos island, Greece! This beach is really endless and the sand is purrfect! But it is usually very windy with huge waves and that is why many water sport fans come here. Well, don't look at me. Do I look like a water sport fan? I am a fine sand fan though. This is an endless sand box for me! The perfect toilet. And so much privacy. Damn, I forgot the paparazzi. But that is not my only problem. The biggest problem is that I forgot my sunglasses. Photoshoot at the beach without sunglasses? That is unacceptable even for an amateur like myself. Dad, can I borrow yours please?
For more photos follow me on Instagram at @chapy_cat. You can also view my photos in HD on Flickr and 500px!
This Video Will Definitely Make You Smile:► Follow Me at the Beach