This is my first quote and it is my favorite. This quote is for those who worry too much and here is what I am saying to all those cats and humans, Please DON'T WORRY, BE CHAPY!
Yes be Chapy, because as I say on the about me section, mum and dad gave me the name "Chapy" because they say that I am a lucky cat and make others happy. I am a happy Chapy! So look into my eyes and promise me that you will be Chapy, cause you deserve it!
I know I know, life is tough, life is difficult full of pain and disaster and it is getting more and more painful so how is it possible to be Chapy without a job, without good friends, without food etc. STOP IT! Stop finding excuses and start finding solutions. Life is the way we see it. Actually did you know that the subconscious part of our mind is responsible for creating more than 60% of the way we see the world? That's right, it's up to us! If you see life black then it will be black but if you are positive and see life white then it will be white. So your only problem is yourself, deal with it.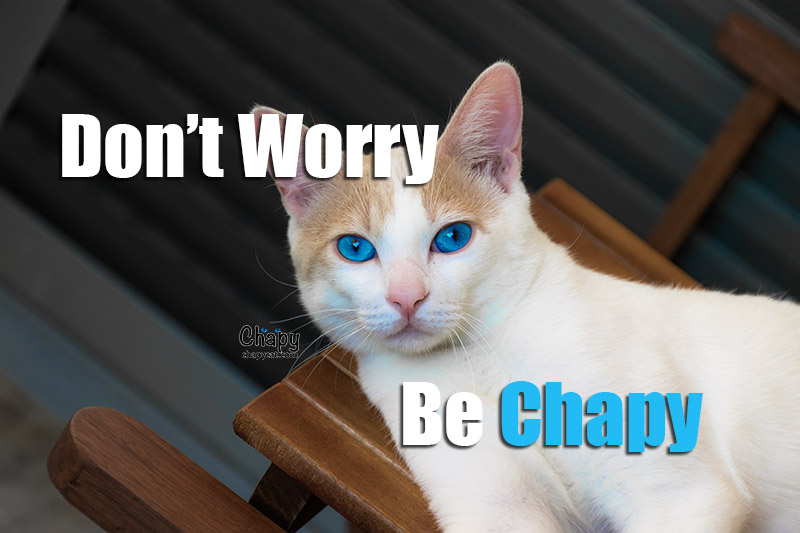 You Will Absolutely Enjoy This Video:► Best Moments of my First Birthday Party
If you want to be Chapy then you will be Chapy. Take me as example, I want to be Chapy and guess what, I am Chapy! And you can be too, as long as you really want it. So I will say it again and again even if I have to say it a million times, Don't Worry, Be Chapy!
For more photos follow me on Instagram at @chapy_cat. You can also view my photos in HD on Flickr and 500px!
This Video Will Definitely Make You Smile:► How to Give Antibiotic Gel to Your Cat