Another photoshoot day but this time is REALLY SPECIAL. Well that is because I am in PARADISE! Yeap, in Paradise beach in Kefalos, Kos island, Greece! I wonder why they call it paradise beach.
I am just kidding! This is one of the best beaches I have ever been. Hm.. to be honest it is only the third beach I have ever been but still my number one! The view from up there is unique. The sea seems endless, touching the sky and you can also see the nearby islands! I do not know why I love the sea so much, maybe because it has the same color with my eyes! And when I say I love the sea I mean I love to look at the sea, not swim for God's sake. I am a cat, I hate water, remember?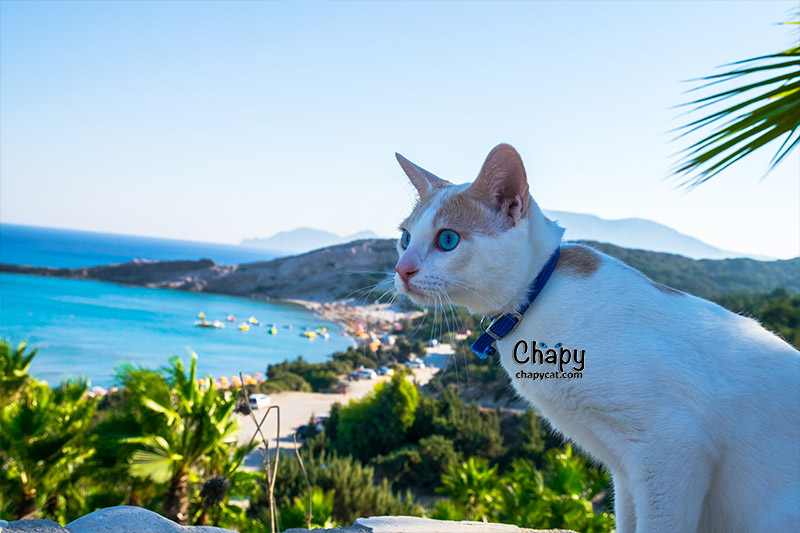 You Will Absolutely Enjoy This Video:► Follow Me at the Beach
The problem with me is that wherever I go, whatever I do there is always a paparazzi around taking photos. It's not that I don't like it, I am a public figure after all, but sometimes I would like some privacy especially when I am on holiday with mum and dad. Thank god those paparazzi are really good and this photo is quite awesome don't you think? At the moment this photo was taken I was simply enjoying the view and the nearby islands. The truth is that I just saw a small bird on top of a tree but let's keep this between us, ok?
This Video Will Definitely Make You Smile:► How I Won 2 Trophies at my First International Cat Show