Share Chapiness! Yes, share as much Chapiness as you can. For those who do not know yet, Chapiness = Happiness because I am a happy Chapy and what I want the most is to make other cats and humans happy. Everybody deserves to be Chapy so please Share Chapiness! Doing it usually costs nothing but making someone Chapy is the biggest reward you could ever get.
Life is getting tougher every day and most of us have even forgotten what being Chapy means or how does it feel to be Chapy. So how can you share Chapiness when you are not Chapy yourself?
That is not true. Of course you know what Chapiness is and of course you remember how it feel to be Chapy. It is just that you are so confused, stressed and worried with your everyday problems and routine that you refuse to identify Chapiness. That means that you have given up and are not willing to try at all. You must NEVER GIVE UP, never give up life, never give up Chapiness.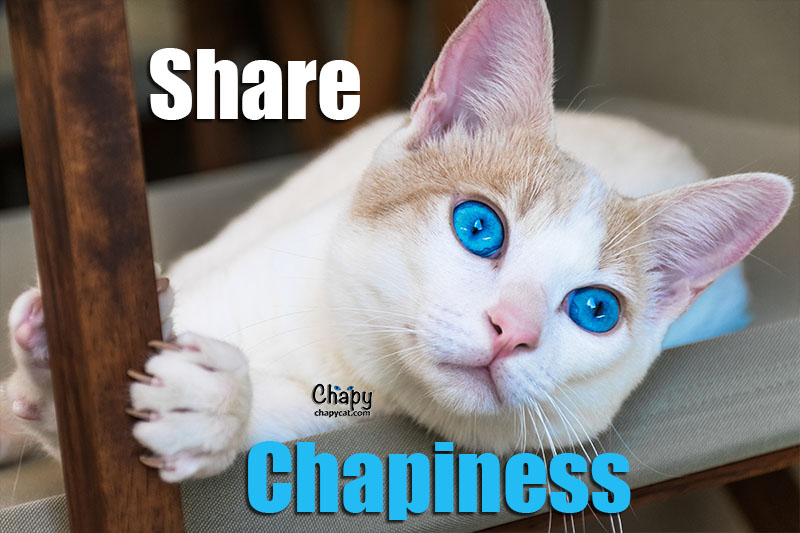 You Will Absolutely Enjoy This Post:► Don't Worry – Be Chapy
If you share Chapiness and make someone Chapy every single day then that will make you Chapy as well. It is that simple. And you do not need money or a lot of stuff to be or make someone Chapy. Sometimes even a smile or a kiss can make someone Chapy. Yes, it is that simple. If you give me a kiss, I will be Chapy! I am Chapy, and I will share Chapiness, no matter what!
For more photos follow me on Instagram at @chapy_cat. You can also view my photos in HD on Flickr and 500px!
This Video Will Definitely Make You Smile:► Open the Door and Nobody Gets Hurt