Year 2015 is gone furrever. For me it was the best year! Well, maybe because it was the first year of my life! Here are the best memories! The year was full of  funny and touching moments and here are only the best of them.
These memories are not in the order they actually happened. On top are those I believe are the best memories for me, Chapy, for the year 2015. The most touching, happiest, funny and the moments that made a significant impact in my life. Don't forget that I was a kitten in 2015!
1. The day I met mom and dad
Of course the best memory ever was the day I arrived at my new home in Athens, Greece and met for the first time my furever parents. I will never forget that day. I was so stressed and had no idea where I was and why. Back then I had no idea I would love those two strangers so much and that they would be the 2 most important hoomans for the rest of my life. You can read the full story on the About Me section. I love you so much mom and dad and thank you for making me who I am today!
 2. My first birthday party
After the moment I met mom and dad, this is the second best memory of 2015. My first birthday party. This is only 3 weeks ago. The day I had my first birthday. I am 1 year old now and will never forget that amazing party. The balloons, the birthday cake, the presents and of course all the fun I had! Hope next birthday party will be even better!
 3. First time at the beach
Another unforgettable memory. I was only 8 months old and this was my first time at the beach. That is very common for cats here in Greece as there are thousands of islands and amazing beaches everywhere. I was a bit stressed but mostly I was so curious to explore that giant sand box. I am a Japanese Bobtail and we behave more like dogs than like cats. And that is why I like walking free but always stay close to mom and dad and would never run away.
 4. Meeting a dog for the first time
Meeting a dog for the first time. Yeap meeting that little puppy Tito. At first I was not so excited but at the end we became friends. Puppies are so playful and permanently excited! Even though his size was bigger than my size he was a bit afraid of me. Happy times!
 5. The Force awakens
I had never seen Star Wars before. Well, of course, I am only 1 year old. So I had to catch up fast and watched all movies in 2 weeks. And here is the result. I am a little Jedi cat ready to fight. Nobody stands in my way. The Force Awakens with Chapy cat!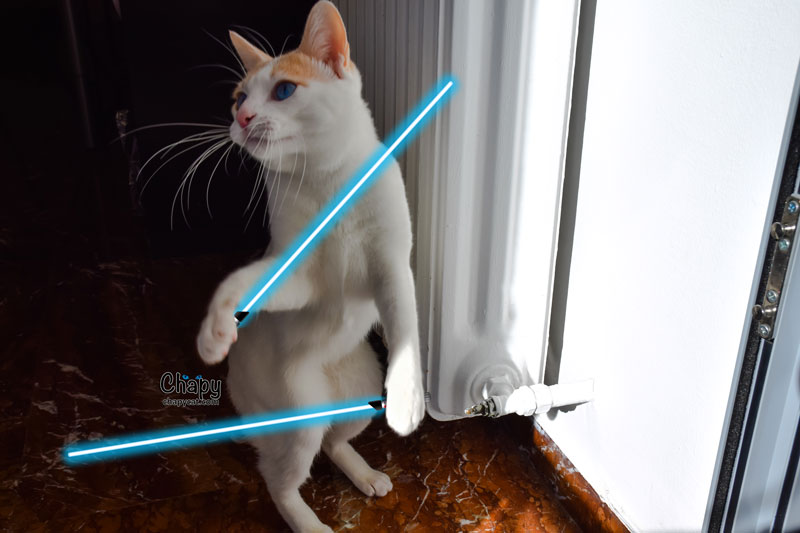 6. Halloween
Of course Halloween couldn't be left out of the list. Cats in general don't like costumes and clothes. That's not true for me. I hate cold and of course love anything that can keep me warm. Plus having a bit fun as well sounds like a good plan. I will never forget the day I was wearing that purrfect dragon costume and the day I scared that big guy with my spider costume!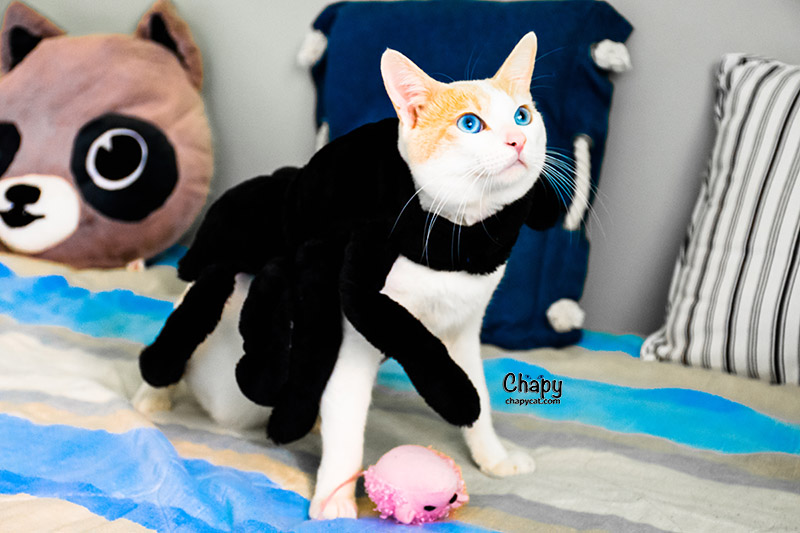 You Will Absolutely Enjoy This Video:► I Believe I Can Fly
7. Raining cats and dogs
Some would think this is not such a good memory. Well, you are wrong. I hate water indeed, like most cats. But I like watching the rain by the window. I am an indoor cat so I never go outside alone anyway. These memes are just to make you smile.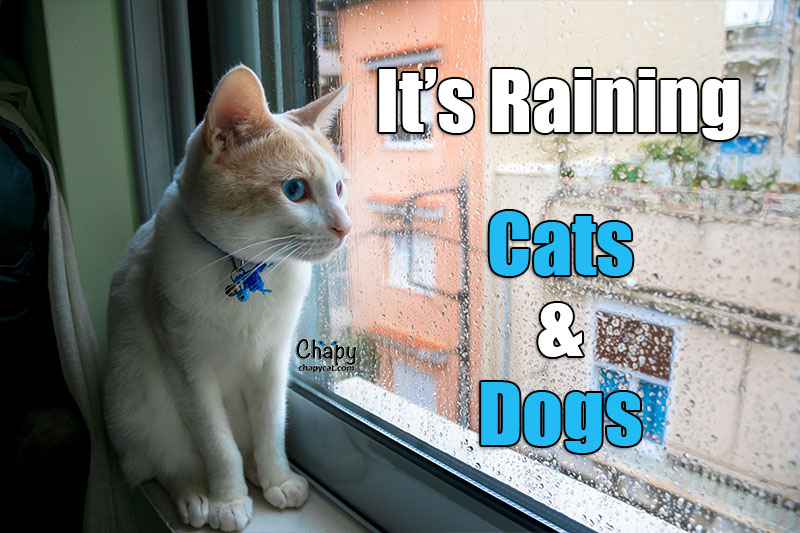 8. My First Christmas and New Year
Actually it is my first Christmas and New Year with my furever family. My first Christmas was when I was only 3 weeks old with my real mom and dad. I really had a great time with my furever family. Had so much food and so much fun.
You Will Surely Love This Video:► Destroying the Steam Cleaner
9. Killing and eating a fly
It is impossible to forget that day. The day a fly invaded my room and challenged me to a fight. I love flies, they are small purrfect treats for a cat. After a hard fight managed to kill and eat that little fly. I wish there were more!
 10. Best photo of 2015
Last but not least, the best photo of 2015. Everybody loved this photo and I love it too. Dad was singing to me and I had to do something about it. Actually, I love the photo but not the memory! Well, maybe I love the memory a bit too. Dad was singing to make me happy. It's not his fault that he has no good voice.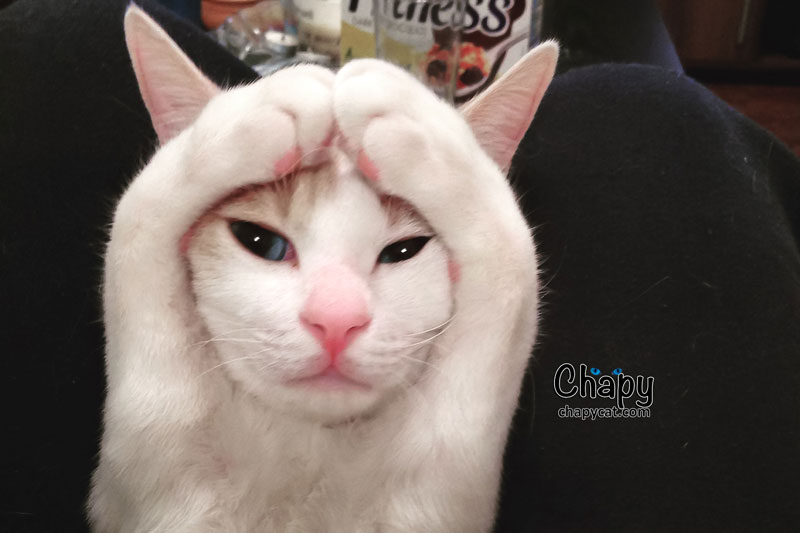 These are the best memories for this purrfect year. Hope you agree with me but if there is anything that you really liked and I haven't included then feel free to leave a comment below. Never forget to smile. Don't worry, be Chapy! And never forget to share Chapiness!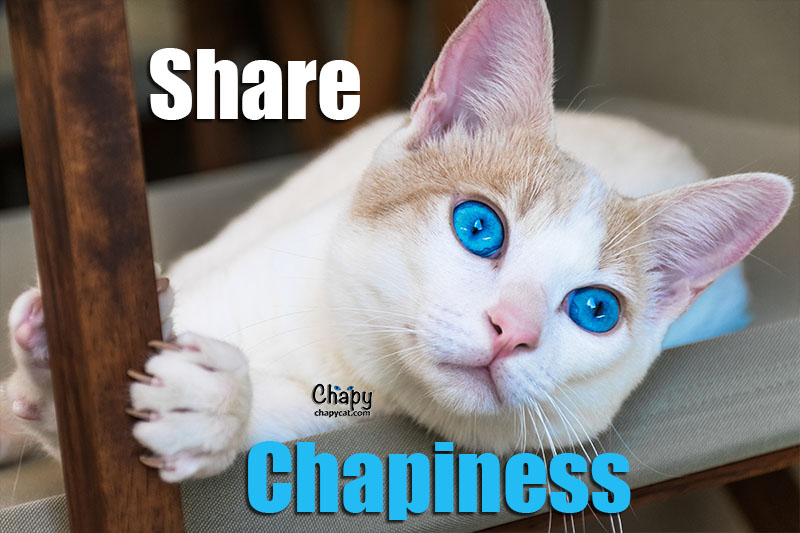 These Photos Will Definitely Make You Smile:► The Force Awakens With Chapy Cat
I am very optimistic and will do my best to make the new year 2016 even better. Will do my best to be happier and accomplish all my goals and most important to MAKE YOU SMILE!